---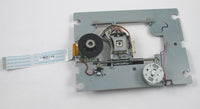 Sale
This is the most complete repair kit you can find for the Thomson TGM600 DVD drive for the original XBox 1st Generation Console.  Includes the laser, the worm gear, and the spindle hub/motor. 

If your drive's tray opens and closes OK, this combo pack should fix any freezing or read errors you may be having on your XBox. 

This will work on the THOMSON TGM600 DRIVE ONLY!