---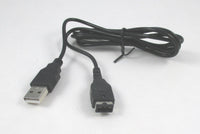 This is ONE third party USB Charge Cable for Nintendo DS Original
Also compatible with GameBoy Advance SP
This USB Cable is NEW but it is not made by Nintendo.  
We have tested it with the Anker & RAV Power external battery and it works great to charge the DS!  
We have sold hundreds of these cables and have had no problems.  
This USB Cable works in the NTR-001 Nintendo DS Original system only!  
Will *NOT* work with DS LITE (USG-001), DSi (TWL-001), or 3DS systems.
It works with AC to USB cords on 120V U.S. and it works on 240V international outlets.