---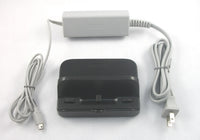 Lost your Wii U Charging cradle and/or Wii U GamePad AC Adapter?  Or want a spare so you don't need to keep moving it?  Here's the item for you!
(1)  Brand NEW, WUP-014 OFFICIAL Nintendo GamePad Charging Cradle.
(1)  Brand NEW, WUP-011 Compatible (NOT made by Nintendo) AC Adapter Charger for the Wii U GamePad.
THE WII U AC ADAPTER CORD IS INCLUDED!!!
The Docking Charge Cradle is manufactured by Nintendo.
The Wii U Gamepad AC Adapter included in this package is NOT made by Nintendo.  It's a high quality AC adapter that we use in our own environment.