---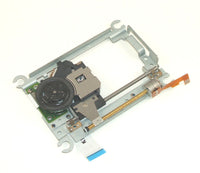 TDP-082W Laser Lens Assembly for Slim PS2 model SCPH-70012, 70011, 75001, 70001

Brand NEW TDP-082W Laser assembly for the slim playstation 2 including the SCPH-70012, 70001, 70011, 75001, and international counterpart models ending in 0, 3, or 4

This is a *NEW* laser from the factory.  It is not used or refurbished.  It includes a NEW PVR-802W laser head and the rails and motors on the assembly.

Important:  This is a NEW laser but we remove the solder protection and ship it in an anti-static bag for your convenience.  We realize most end users either don't own soldering irons or are not comfortable enough to remove a solder blotch from a $30 laser!  If you would prefer that we leave the solder protection intact when we ship, please leave a note in the order stating so.